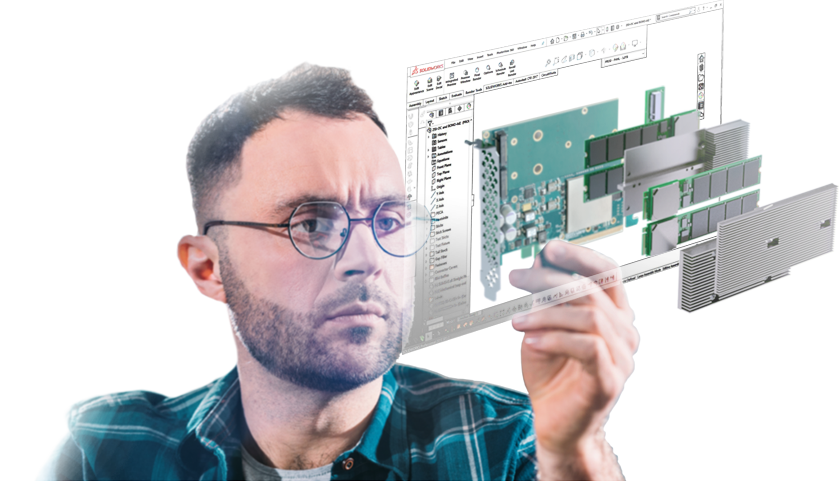 Two Approaches to Rapidly Developing Customized FPGA Solutions
How BittWare reduces risk over the complete customized solution lifecycle​
While FPGAs in the datacenter utilize standard PCIe form factor cards, a large number of customers build solutions that require customized solutions for on-premises racks or edge deployments. By customized, we mean everything from form factor variants to feature optimizations: unusual I/O connectors to extremely complex multi-PCB solutions with high-speed interconnects.
It's often assumed that building such custom solutions is best done using the in-house team. We can prove to you the lower risk option is to leverage the unique design, manufacturing and product lifecycle capabilities of BittWare and Molex. Two approaches, both leveraging BittWare's enterprise-class products, get you to market faster.
Approach 2: Using Customized Variants
Choosing a Partner: What to Look For
Approach 1: Using Expansion Cards to Customize Standard Products
Don't always assume you need a full custom board. We have many examples where building an add-on card proved to be a far better option as the card can be designed quickly and at lower risk as it will be a simpler design.
Starting at 95% Done—for the Software Too!
In our experience about 95% of a custom solution can be re-use of a base board and associated IP, with 5% as a custom add-on card.
It's important to consider that today's high-speed interfaces to memory and other I/O require extensive electrical, mechanical and even thermal considerations. But by using an expansion card, you're essentially jumping past those requirements by using an enterprise-class BittWare solution.
This isn't just for the hardware, as BittWare cards have extensive software tools including drivers, libraries, modules and utilities. Many of our cards include a Baseboard Management Controller (BMC) as well for hardware control, monitoring and access to the low-level functions. We also have a growing library of IP from BittWare and partners such as our Data Capture reference design or SmartNIC shell.
You are also getting the benefits of lead time and inventory from a base board at higher volumes for the base card or module.
Many Examples: Our XUP-P3R with Exclusive SEP Expansion
Below are some examples from our XUP-P3R, which features an SEP (serial expansion port) connector. For the SEP, most cards connect with a flex cable but we can also do a direct connection such as with the Keysight O-RAN card that keeps the solution to just a double-width slot.
We have other I/O expansion connectors such as OCuLink and MCIO (supporting Gen5 PCIe). Get in touch with us to learn about the right solution for your project!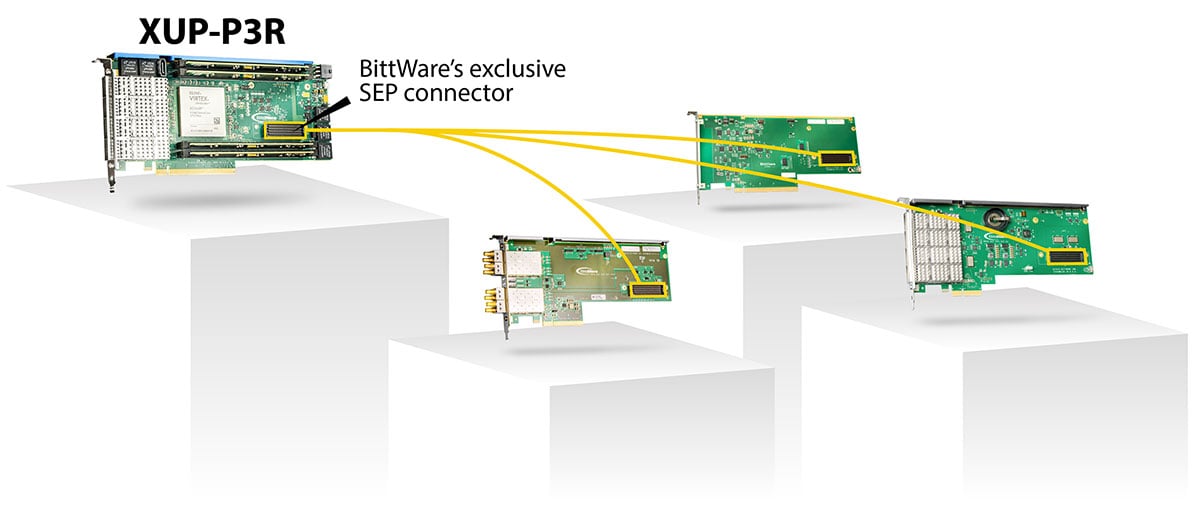 Many of our large FPGA cards have expansion connectors providing high-speed transceivers and general-purpose I/O (GPIO) designed for customized add-on cards. BittWare has extensive experience making a variety of these cards as you can see in these examples.
This add-on card has several SFP cages which are electrically designed for SDI SFP Video modules. This allowed the customer to quickly build a proof-of-concept appliance for capturing video to the large VU9P FPGA.
Additional PCIe x16 interface
Many FPGAs have more PCIe connectivity than is possible with the main card's edge fingers, so in this case an additional slot brings a second PCIe Gen3 x16 interface.
For some customers, adding proprietary interfaces is a critical design component. We designed the daughtercard to quickly get the customer to market with eight QSFP28s per FPGA.
Expansion card for 1U 5G Test Equipment
For Keysight, we designed a small daughtercard trigger module that directly connects to the XUP-P3R card's SEP connector. This kept the card to fit in a 1U TeraBox 1000S server, perfect for Keysight's O-RAN 5G customers.
Approach 2: Customization of Standard Products
When a daughtercard isn't enough, we recommend more extensive customization of an existing product. As with using an expansion card, there's an element of re-use of existing BittWare enterprise-class products that will save time.
The key advantage for fully customized products with BittWare is our extensive design experience with challenging projects. Our staff is able to work closely with your team, not merely as a design shop but a full-service vendor that includes early design validation all the way through volume production using the extensive resources of Molex.
Complex Design Required? Not a Problem for Us!
Our design teams are seasoned with complex projects like the 250-HMS, which required a tight package (single-width PCIe) of 5 FPGAs and multiple PCBs including two M.2 memory sticks.
Rely on BittWare for working out the complex electrical, mechanical and thermal challenges projects like these require.
The CAD exploded diagram shows the multiple components, all custom designed, that come together in the final assemly.
Case Study: Scientific Imaging
For a leading scientific imaging company, working with BittWare on a fully customized card has allowed them to utilize the latest silicon and suit it to their needs for two generations of products.
BittWare has worked this customer on two generations of FPGA accelerator cards for image sensor processing.
The first utilized the custom A10PED. The main requirements were two Intel Arria 10 GX FPGAs plus a high-speed memory called Hybrid Memory Cube (HMC). For I/O, rather than QSFPs the design utilized on-board optical receivers.
Next-Gen Solution Using Intel Stratix 10 MX
With the success of the A10PED, BittWare was again chosen for a customized card. In this case, the base card was the 520N-MX with HBM2 memory.
BittWare was able to quickly adapt the I/O for the optical needs of the customer, while allowing their team to rely on the proven build quality we put into standard products.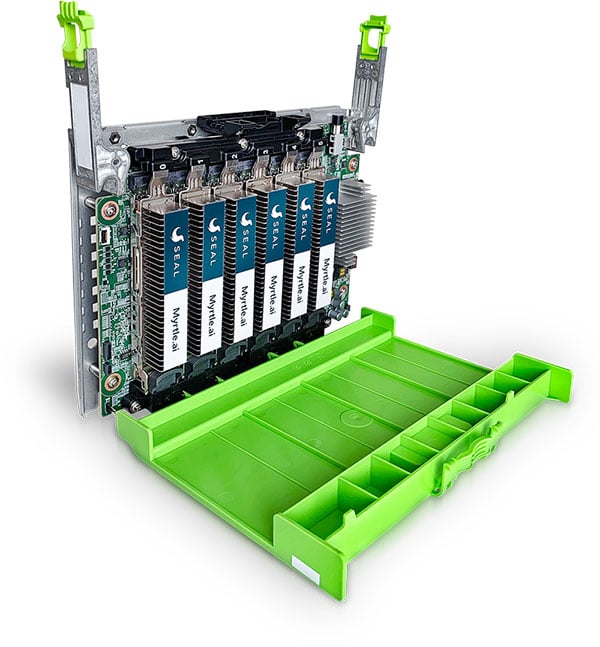 What about Non-PCIe Form Factors?
We find most customers are able to significantly reduce risk by working with us to customize a standard PCIe product. However, there are situations where a fully custom board or module without a prior design is the best option.
The example shown is the 250-M2D, a M.2 form factor module we created for Myrtle.ai. This module fits in the high-density Yosemite server (six modules are shown as part of the complete sever).
Choosing a Partner: What to Look For
Program managers typically play a critical role in defining the ideal engagement process, coordinating department leads in hardware, software, and firmware to bring a product to market. Their goal is collaboration, accountability, and transparency via a partnership that essentially functions as an efficient single team. Five key steps are critical to their success:
Capture the technical, commercial, and programmatic requirements for the project in an interactive setting.
In this environment, the real-world expertise of the design and manufacturing partner many end up challenging the customer's original request. Look for a consultative approach providing insight and recommendations that reduce cost, complexity, and timeline while achieving the goal of the design. Flexible engagement models will consider long-term production goals, for example non-recurring engineering (NRE) costs plus a minimum quantity or rebated NRE based on higher volume.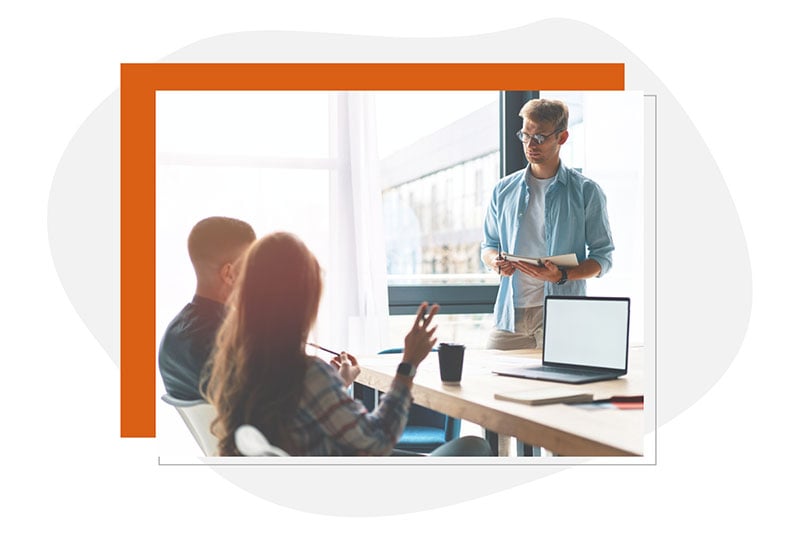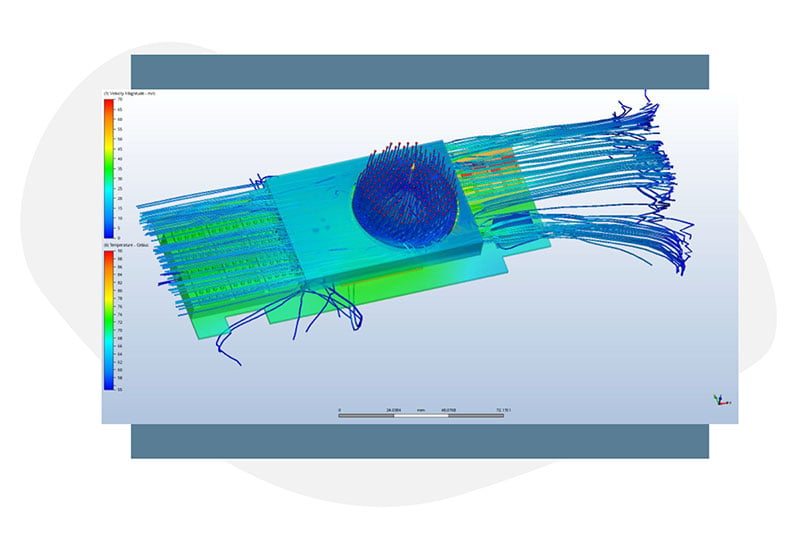 Study the viability of the design to understand its level of risk, including a deeper look at factors that represent the highest risks for the project such as signal integrity or mechanical thermal performance.
Invest in paper-based exercises and physical lab testing to mitigate risk and validate design feasibility.
FPGA-based product design spans systems architecture, hardware design including advanced PCB materials and signal integrity, software design, application software featuring embedded processors and GUI design, as well as mechanical design, thermal analysis, and more.
Tapping into a single multidisciplinary group of engineers, programmers, technicians and manufacturing experts streamlines development, and enables customers to remain focused on their own core competencies.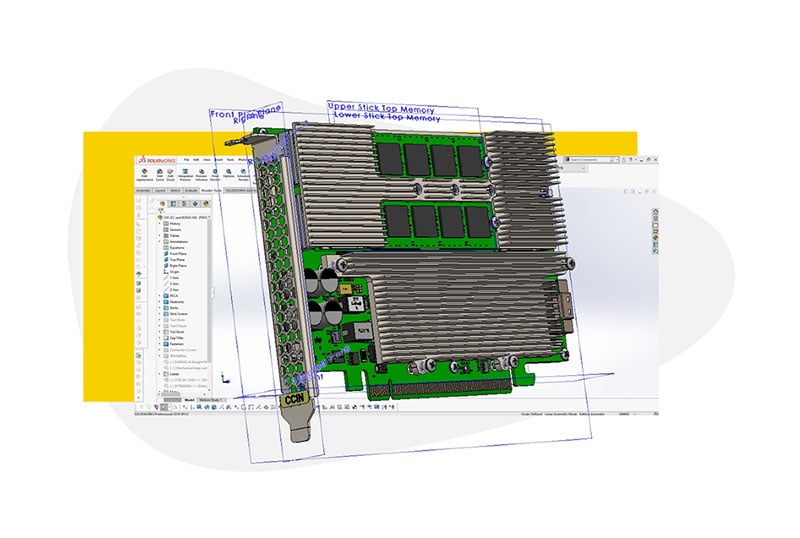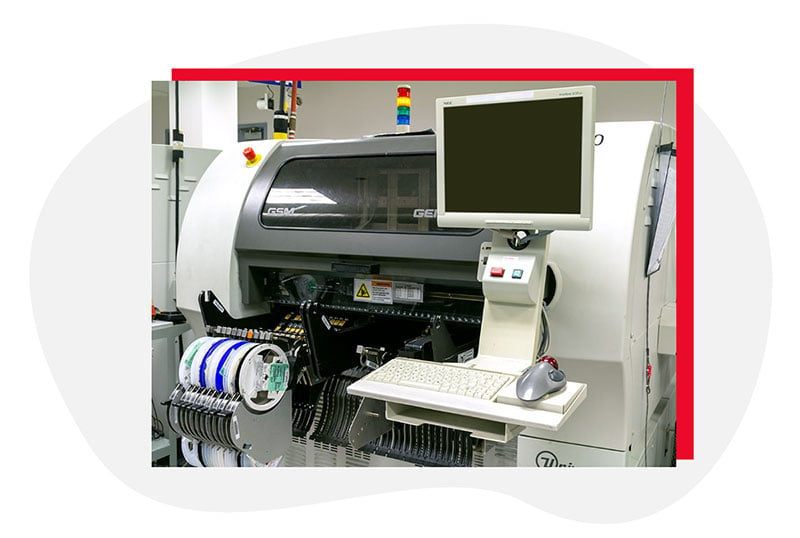 Invest in manufacturing expertise to handle your production pilot.
Testing and qualification at this stage are critical to successful volume production, identifying and isolating design problems that may go undetected during simulation and lab-based prototype testing. At this stage, the manufacturing process itself must also undergo the same rigorous examination. Global capabilities also add value, recognizing that the same or similar time zones improve interaction between partners.
With quality validated and manufacturing processes in place, the partnership can safely and efficiently transition to high volume production and lifecycle management.
This extends long-term lifecycle management from product inception to engineering design and manufacture, to service and disposal of manufactured products. Ideally, design and manufacturing partners facilitate quality control, repeatability, and end-to-end cost controls on the customer's behalf. And as volume production ramps up, this may include working with product integrators and customers' supply chains to efficiently handle distribution to end-customers, support questions, and product returns. customers without international scale and logistics can streamline these processes by seeking a partner on the Approved Vendor List (AVL) for the world's leading organizations.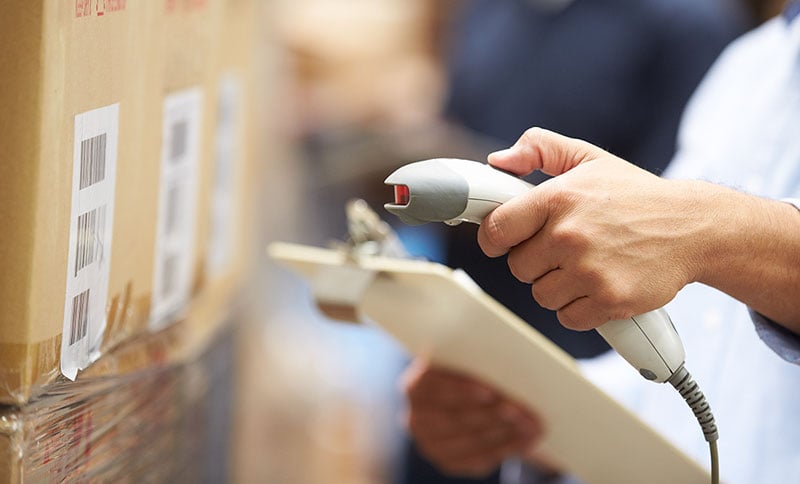 Concluding Thoughts: Be Productive versus Transactional
One of BittWare's standard FPGA-based products may be 95% of the way for a new system design—needing only a small customization to gain the last 5 percent of capabilities that will perfect its fit. Adjustments to I/O can often be handled easily. With BittWare, there's a large base of standard products with FPGAs from Achronix, Intel and Xilinx.
Working with a full-service vendor who can handle design, manufacturing, and support allows for better collaboration and gives the customer freedom to focus resources on their core competencies. BittWare seeks customers who need everything from initial development through volume production, and brings the strength of Molex as a partner for a wider variety of fulfillment strategies.
We look forward to discuss your project requirements! Please fill out the form to get in touch with us.