Intel Arria 10 Low-Profile
The 385A low profile accelerator card provides a powerful PCIe computing and I/O platform for FPGA development and deployment across a range of application areas including high performance computing, image processing, and network analytics. 
Need a Customized Variant?
I/O interfaces on this card not exactly what you're looking for? Talk to us about your exact needs as we can quickly build additional variants.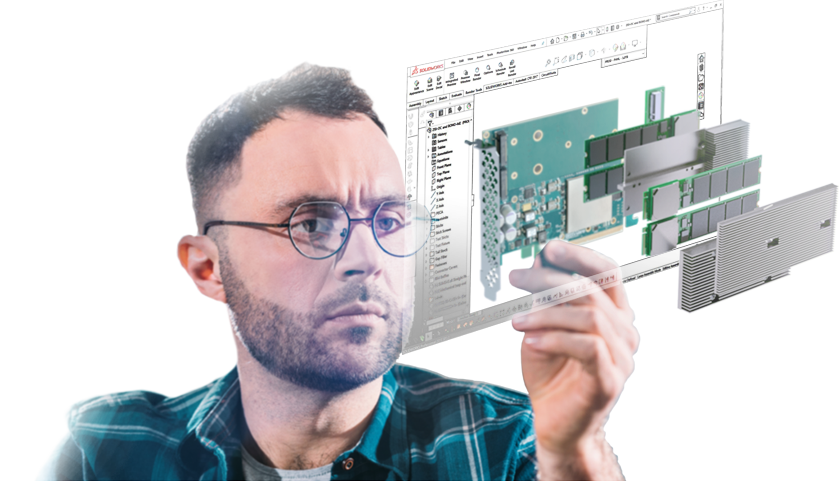 FPGA
Intel Arria 10 GX

1150 GX F1517 NF40 package
Core speed grade -2: I/O speed grade -3

Contact BittWare for other Arria 10 GX options
On-board Flash
Flash memory for booting FPGA
On-board memory
Two banks of DDR3 SDRAM x 72 bits
4GB per bank (8GB total /16GB and 32GB version also available)
2133MT/s per bank
Host interface
x8 Gen3 interface direct to FPGA
QSFP cages
2 QSFP+ cages on front panel connected directly to FPGA via 8 transceivers
User programmable low jitter clocking supporting 10/40 GbE
Each QSFP can be independently clocked
Clocking options:

Network recovered with jitter attenuation
QSFP clocking: user programmable, or CPRI, 1GbE
External clock input, 1PPS input
Cooling
Standard: single-width active heatsink (embedded fan)
Optional: single-width passive heatsink
Electrical
On-board power derived from 12V PCIe slot
Power dissipation is application dependent
Typical max power consumption 75W
Environmental
Operating temperature: 5°C to 35°C
Quality
Manufactured to IPC-A-610 Class 2
RoHS compliant
Form factor
Half-height, half-length PCIe single-slot board
167.6mm x 68.9 mm x 17mm
Development Tools
FPGA development
BIST - Built-In Self-Test for CentOS 7 provided with source code (pinout, gateware, PCIe driver & host test application)
Application development
Supported design flows - Intel FPGA OpenCL SDK, Quartus Prime Pro (HDL, Verilog, VHDL, etc.)
Deliverables
385A FPGA board
USB cable (front panel access)
Built-In Self-Test (BIST)
OpenCL HPC Board Support Package (BSP)
1-year access to online Developer Site
1-year hardware warranty
Order Your Cards in a TeraBox™ FPGA Server
Get extended warranty support and save time with a pre-integrated solution!
Interested in Pricing or More Information?
Our technical sales team is ready to provide availability and configuration information, or answer your technical questions.