FPGA Cryptocurrency Mining Board
Replace an entire GPU rig with a single liquid cooled unit!
Powerful FPGA Mining
Our CVP-13 makes FPGA cryptocurrency mining easy! With a single board, you can get hash rates multiple times faster than GPUs! No more complex rigs with lots of maintenance. Up to three CVP-13s can run under a single 1,600W supply, liquid cooling loop, and motherboard.
Easy to Use
Runs under Windows 10 for Zetheron algos (X16R, Nexus, 0xToken, and more) or Linux
Uses off-the-shelf liquid cooling—you provide the loop and hook up to CVP-13's supplied water block
Compatible with PCIe risers; with Zetheron algos USB+Power is all that's needed (no PCIe at all!)
Active FPGA Discord community; walkthrough videos/guides for setup
Why CVP-13 for Cryptocurrency Mining?
Incredible hash performance packs the power of many GPUs into a single board!
Many algos/coins available to adapt to changing market conditions.
The VU13P FPGA is a solid price/performance leader and will continue to be for the future.
Available and Upcoming Coins/Algos
Here's where to find what can you mine with the CVP-13!
Algorithms
Hashrate
Dev Fee
Coin
Platform
OS
vBlake
9 GH/s
0%
Veriblock
Zetheron
Windows
skunkhash
1100 MH/s
8%
HDAC, GlobalToken, others
Zetheron
Windows
grostl & diamond-grostl
1.8 GH/s
0%
Groestlcoin, others
Zetheron
Windows
SHA-3
23 GH/s
4%
0xBitcoin
Zetheron
Windows
Nexus
2.3 GH/s
4%
Nexus
Zetheron
Windows
0xtoken
17 GH/s
5%
0xtoken
Allmine
Allmine Shell / Linux
keccak256
17 GH/s
5%
keccak256
Allmine
Allmine Shell / Linux
sha3_256
17 GH/s
5%
zen protocol
Allmine
Allmine Shell / Linux
tribus
2.4 GH/s
5%
tribus
Allmine
Allmine Shell / Linux
x13sm3
240 MH/s
5%
x13sm3
Allmine
Allmine Shell / Linux
Tribus
2.4 GH/s
Tribus
Github
Amoveo
38 GH/s
Amoveo
Github
Blake2b
38 GH/s
0%
Titlenet
Github
BMW512
10 GH/s
5%
DigitalNote XDN
Allmine
Allmine Shell ⁄ Linux
Honeycomb
650 MH/s
7.5%
BeeNode
Allmine
Allmine Shell ⁄ Linux
Neoscrypt v2
10.5 MH/s
Allmine
Allmine Shell ⁄ Linux
vblake2
9.2 GH/s
5%
Veriblock
Allmine
Allmine Shell ⁄ Linux
Turtlecoin
350 KH/s
5%
Turtle
Allmine
Allmine Shell ⁄ Linux
argon2dnimiq
1.1 MH/s
5%
Nimiq
Allmine
Allmine Shell ⁄ Linux
odocrypt
2.5 -2.8 GH/s
5%
DGB
Allmine
Allmine Shell ⁄ Linux
Eaglesong
17.28GH/s
8%
CKB Nervos
Ruplik
Windows 10
Eaglesong
16.5 GH/s
*
CKB Nervos
Allmine
K12 AEON
51.5 GH/s
8%
Aeon
Ruplik
Windows 10
Kadena
7.2 GH/s
6%
Blake2s
Ruplik
Windows
HNS
3.2 GH/s
8%
Handshake
Ruplik
Windows
HNS
Mode 1: 4.24 GH/s, 410A, 318W
Mode 2: 4.08 GH/s, 366A, 270W
$10 license fee + 15% dev fee
Handshake
Zetheron
* Contact developer for fees.
| Algorithms | Estimated Hashrate | Coin | Estimated Release Date |
| --- | --- | --- | --- |
| Kadena (Zetheron) | 18.48GH/s | blake2s | TBD |
| RB5 (Zetheron Code Name) | 300MH/s | RB5 | TBD |
| X16Rv2 | 1st release: 240 MH/s | Ravencoin, Bitcash, others | TBD |
* Release of beta bitstreams is subject to change at any time and is not guaranteed.
Live Demo (Using XUP-VVP)
In Server (Using XUP-VVP)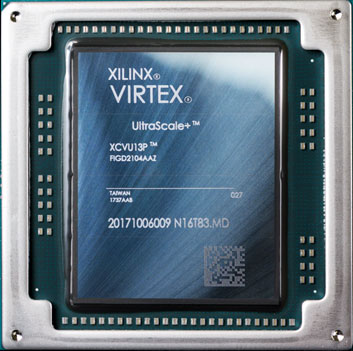 One of the most powerful FPGAs in crypto mining!
Reviews and How-to Guides
Check out what people are saying about the CVP-13
Bitstream by Comino for CVP-13
BittWare CVP-13 Card Mining: Day 1
Ready to buy? Get your CVP-13 at one of the following stores:
FPGA.guide
Avnet
CVP-13 is sold and supported by the vendor you purchase from. Check their store listings for pricing, warranty, and support details.
Interested in Pricing or More Information?
Our technical sales team is ready to provide availability and configuration information, or answer your technical questions.