Reliable, Proven 2U FPGA Server
We've integrated one of the most popular 2U data center servers from Dell EMC with our full lineup of Achronix-, Intel-, and Xilinx-based FPGA cards. BittWare's TeraBox 2000D combines a high-powered dual-CPU (Intel Xeon Scalable) host with high-density FPGA resources. Configurations include three of BittWare's large double-width cards using Achronix Speedster 7t, Intel Stratix 10, or Xilinx Virtex UltraScale+ FPGAs. Users seeking maximum logic/memory density can choose the XUP-VV4 for 11M logic cells and 1.5TB FPGA-attached DDR4 memory. Up to six low-profile cards* can also be configured, such as the XUP-PL4 with UltraScale+ FPGA. No matter which configuration you choose, you're getting BittWare's installation and support, plus options for Dell server support. * In a system with six low-profile cards, four would have x16 slots, and two would have x8.
for 24x 100G or 96x 10/25G
up to 6 low-profile cards
Support for BittWare's full range of FPGA cards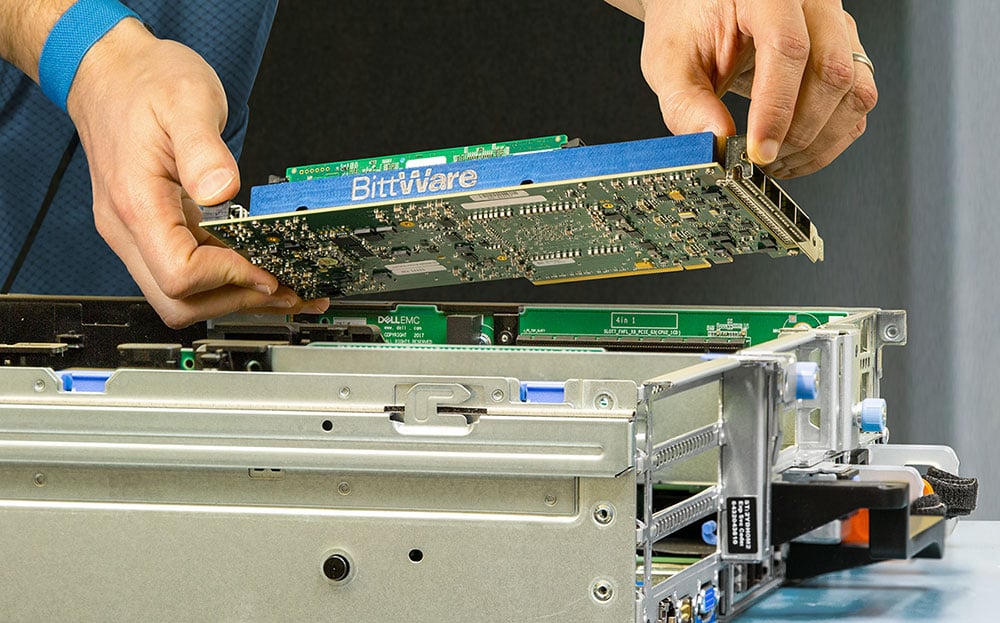 2U, depth 28.2 in (715.5mm)
Processor: 1-2 Intel® Xeon® Scalable processors
Chipset: Intel C620
Memory: 24x ECC DDR4-2666 DIMMs
Slots: (3) DW/FH/FL Gen 3 x16 PCIe slots, (2) SW/FH/FL Gen 3 x8 PCIe slots, (1) SW/FH/HL Gen 3 x8 PCIe slot
Storage: up to 16x 2.5" or 8x 3.5"
Power supply: Platinum up to 2000W, redundant (1+1)
BittWare FPGA Cards
The TeraBox 2000D is a 2U FPGA server based on the Dell PowerEdge R740 chassis. This server offers single or dual Intel Xeon Scalable CPUs along with high PCIe slot density. With configurations of up to six low-profile cards or three of BittWare's large double-width cards, this server is an excellent premium option for the 2U form factor. Dell ProSupport options are also available.
System Management
For system management, BittWare's FPGA cards are equipped with a Board Management Controller (BMC), which accepts IPMI 2.0 commands. Use it along with BittWare's BittWorks II Toolkit to program the FPGA over USB, monitor card power and temperature, and re-program the onboard clocks. You'll also be able to set points to shut down the card when it gets too hot, access JTAG, or access the software tools remotely. Coming soon: BittWare support for PLDM and Dell's iDRAC management.
The TeraBox Advantage
Choosing a TeraBox FPGA server means knowing you are getting a pre-configured and tested solution. This includes setup and installation of your FPGA cards and associated hardware, your choice of operating system, and development tools. Your TeraBox arrives ready for use—giving your team more time for development and deployment.
Block Diagram, Data Sheet and Specifications
The TeraBox 2000D supports many of BittWare's Achronix, Intel, or Xilinx FPGA-based PCIe cards. The table below lists specifications for some of our certified* cards:
 
FPGA
Cards in Server
Memory
I/O
Processing
S7t-VG6
Speedster7t
2
4 banks GDDR6 (up to 8 GBytes)
1x QSFP-DD, 1x QSFP28
6x 100/50/40/25/10 GbE
692K 6-input lookup tables (LUTs)
375 Mbits embedded RAM
520N-MX
Stratix 10 MX
2
2 banks DDR4 (up to 256 Gbytes)
2 banks QDRII+ (up to 1152 Mbits)
16 GBytes HBM2
4x QSFP28s
4x 100/50/40/25/10 GbE
2.1 million system logic elements
3,960 DSP blocks
XUP-VV8
UltraScale+ VU9P
2
4 banks DDR4 (up to 512 GBytes)
8 banks QDRII+ (up to 2.3 Gbits)
4x QSFP-DDs
8x 100/50/40/25/10 GbE
3.8 million system logic cells
Up to 12,288 DSP slices
* Subject to availability. Contact BittWare for additional FPGA card options.
Low
(2) Intel Xeon Bronze 3106 Processors (1.7GHz, 8C/8T)
48GB DDR4
(2) 1.6TB SSD SAS
(1+1) 1600W Power Supplies
Medium
(2) Intel Xeon Silver 4114 Processors (2.2GHz, 10C/20T)
96GB DDR4
(2) 1.6TB SSD SAS
(1+1) 1600W Power Supplies
High
(2) Intel Gold 6132 Processors (2.6GHz, 14C/28T)
192GB DDR4
(2) 1.6TB SSD SAS
(1+1) 1600W Power Supplies
Ultra
(2) Intel Xeon Platinum 8180 Processors (2.5GHz, 28C/56T)
768GB DDR4
(2) 1.6TB SSD SAS
(1+1) 2000W Power Supplies
Interested in Pricing or More Information?
Our technical sales team is ready to provide availability and configuration information, or answer your technical questions.