BittWare Partner Solution
Intelligent Video Analytics Solution

VAS Suite from Megh Computing is an intelligent video analytics solution for security and system integrators who need actionable insights with enterprise class performance, while managing TCO considerations.
With Megh's Concierge Support to help you get started with development, VAS Suite makes it easy to transition to AI-driven business operations. VAS Suite runs on BittWare cards with Intel Stratix 10 FPGAs with plans to support Intel Agilex FPGAs.
Scale from
1 to 100 cameras
per system
Edge-to-Cloud deployment options
Features
Review live and stored events
Real-time view across all sites and camera streams
Review multiple events together in the timeline
Adjust settings for highest accuracy
AI sensitivity controls
Inclusion/exclusion zones
Rules and notifications
Easy and powerful logic-based alerts
Trigger email or SMS notifications
Ability to limit notifications based on frequency and number of detections
Deployment and integration options
Standalone or integrated with VMS systems
Edge appliance or cloud application
Advanced configuration
Diagnostic view for detailed analysis
Advanced AI pipeline configuration settings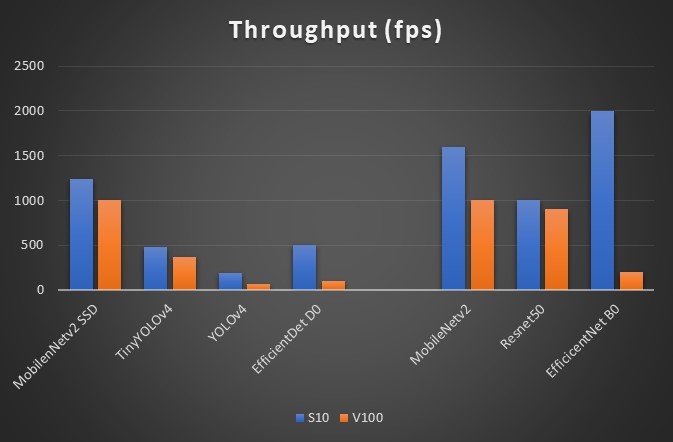 Performance numbers for the most common models running on Intel Stratix 10 compared to NVIDIA's V100 GPUs
NVMe Bridge Platform IP Core Facts
Provided with Core
Documentation: comprehensive user documentation
Design file formats: 

Encrypted Verilog

Constraints files: Provided per FPGA
Verification: ModelSim verification model
Instantiation templates: Verilog (VHDL wrappers available)
Reference designs and application notes:  Synthesis and place and route scripts
Additional items: Reference design 
Simulation tool used: 
QuestaSim (contact IntelliProp for latest versions supported)
Support:
Phone and email support will be provided for fully licensed cores for a period of 6 months from the delivery date.
Notes:
Other simulators are available. Please contact IntelliProp for more information.
View a demo of Arkville 17.05 performance plots.
Data Sheet and Product Details
Deployment configurations
Enable real-time analytics at the edge, on premises, or private or public cloud.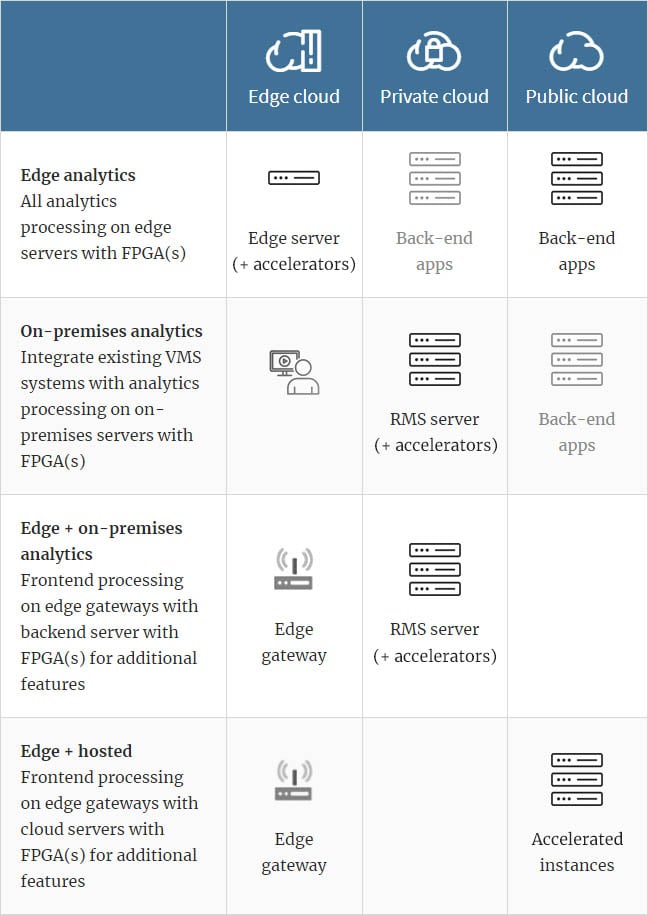 Intelligent Video Analytics
VAS Suite offers video analytics for a variety of public safety and business operations use cases.
Watch a demo of the use cases.
Smart Buildings
Loiter detection
Intrusion detection
People counting
Smart Factories
Inventory tracking
PPE compliance
Collision detection
Smart Cities
People management
Traffic management
Anomaly detection
Avionics
High performance DL inferencing on FPGAs for
Surveillance
Takeoff and landing
The Inferencing stage is the most critical stage of the pipeline implementing the deep learning models for object detection and image classification. Megh's DLE (Deep Learning Engine) running on FPGAs delivers the best performance for many of the models used for IVA. The high throughput achieved with FPGAs delivers the lowest cost per stream for many of the IVA use cases.
Comprehensive Control
Customize the AI / Video Analytics pipeline for any camera view
Optimize for accuracy, TCO, or performance based on use case
Edge-to-Cloud deployment options for performance, cost, and regulatory adherence
Safe Scalability
Start with CPU and scale to GPU / FPGA as needed
Scale from 1 to 100 cameras per system
Link multiple systems and manage in VAS Suite dashboard
Easy AI Adoption
Concierge Support for onboarding, support, or customization assistance
Optimized TCO
Right-size hardware (not over or under-spec'd)
Pre-tested requirements mean no surprises once deployed in the field
Add software licenses as needed, per channel
Enables Operational
Reliability
Intelligent video analytics that actually delivers in complex environments and use cases
Provides the accuracy and real-time performance to fully-transition to AI-driven business
Interested in Pricing or More Information?
Our technical sales team is ready to provide availability and configuration information, or answer your technical questions.