UltraScale+ FPGA PCIe Board with 4x QSFP-DDs
8x 100GbE Network Ports and VU9P/13P FPGA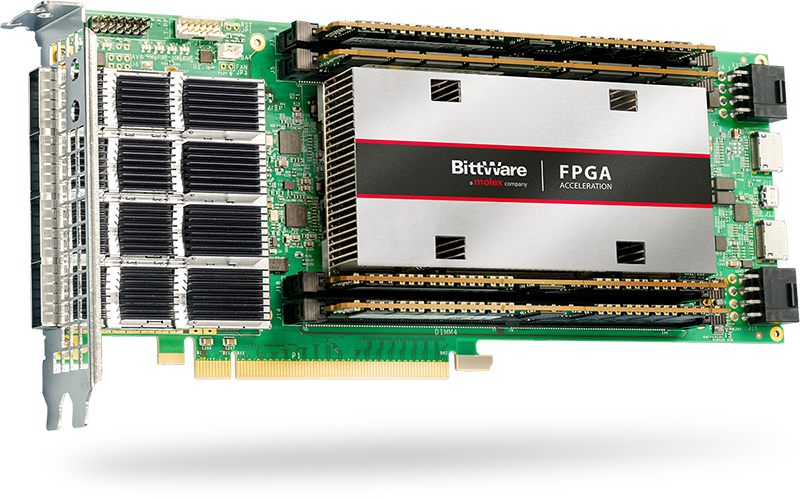 The XUP-VV8 offers a large Xilinx FPGA in a 3/4-length PCIe board featuring QSFP-DD (double-density) cages for maximum port density. Using the Virtex UltraScale+ VU13P or VU9P FPGA, the board supports up to 8x 100GbE or 32x 10/25GbE.
The FPGA provides large logic and memory resources—up to 3.8M logic cells and 455Mb embedded memory. The board also provides a jitter cleaner to support synchronous ethernet. The board can be configured as single width for users who don't need external memory on the DIMMs.
Four QSFP-DD for up to 8x 100GbE
Up to 512 GBytes DDR4 SDRAM
Ultra low latency VU9P SCD 4821
Need a Customized Variant?
The XUP-VV8 is also available with the

Ultra low latency VU9P SCD 4821

, ideal for HFT applications. Not exactly what you're looking for? Talk to us about your exact needs as we can quickly build additional variants.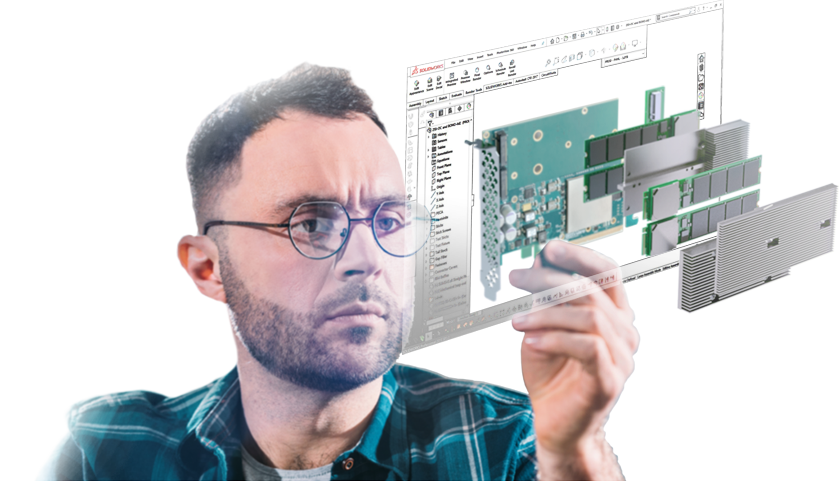 Request the Hardware Reference Guide (HRG)
The HRG gives you much more detail about the card such as block diagrams, tables and descriptions.
FPGA
Virtex UltraScale+
VU9P or VU13P in D2104 package
Core speed grade - 2
Contact BittWare for other FPGA options
On-board Flash
Flash memory for booting FPGA
External memory
4 DIMM sites, each supporting:

Up to 128 GBytes DDR4 x72 with ECC
Up to 576 Mbits dual QDR-II+ x18 (2 independent 288 Mbit banks)
Host interface
x16 Gen3 interface direct to FPGA
USB ports
Micro USB: access to BMC, FPGA JTAG, and FPGA UART
Timestamp
1 PPS input and 10MHz clock input
OCuLink
2 OCuLink on rear edge, each connected to FPGA via 4x GTY transceivers
QSFP cages
4 QSFP-DD cages on front panel
Each supports 2x 100GbE, 2x 40GbE, 8x 25GbE, or 8x 10GbE
Jitter cleaner for network recovered clocking
Board Management Controller
Voltage, current, temperature monitoring
Power sequencing and reset
Field upgrades
FPGA configuration and control
Clock configuration
I2C bus access
USB 2.0
Voltage overrides
Cooling
Standard: dual-width passive heatsink
Optional: single-width passive heatsink*
Electrical
On-board power derived from 12V PCIe slot & two AUX connectors (8-pin)
Power dissipation is application dependent
Environmental
Operating temperature 5°C to 35°C
Form factor
3/4-length, standard-height PCIe dual-width board
Single-width option*
10 x 4.37 inches (254 x 111.15 mm)
Development Tools
System development
BittWorks II Toolkit - host, command, and debug tools for BittWare hardware
FPGA development
FPGA Examples - example Vivado projects, available with the BittWorks II Toolkit
Xilinx Tools - Vivado® Design Suite
* Available on boards with no external memory
Order Your Cards in a TeraBox™ FPGA Server
Get extended warranty support and save time with a pre-integrated solution!
Interested in Pricing or More Information?
Our technical sales team is ready to provide availability and configuration information, or answer your technical questions.