Acquire, process, act in a sensor-rich, interconnected world
Why BittWare for Sensor Processing?
Sensor processing has been a core market for BittWare for three decades. FPGAs are used extensively in applications such as test and instrumentation, 5G/ORAN, RADAR and many more.
Most sensor processing projects require customization, from a small add-on card for SDI video to full custom cards including non-PCIe form factors. BittWare has decades of experience providing these kinds of solutions for a wide range of industries.
With their inherent flexibility, modern FPGAs and SoCs are ideal for multi-channel sensor processing applications that can handle ultra-high data ingress and real-time processing requirements within SWaP (Size, Weight and Power) constrained application environments.
ORAN Test & Instrumentation
We can customize and integrate at the server level too! This is a 5G test application used by Keysight Technologies that's part of their ORAN test solution. The front panel includes the XUP-P3R with a customized trigger module.
Need multichannel analog inputs and outputs? Our family of RFSoC-based cards include analog in/out connected to the powerful third-generation Xilinx RFSoC devices, all delivered in a convenient PCIe form factor. Digital I/O for sensor interfacing and system scalability allows customers to quickly build powerful signal processing solutions.
Hardware Catered to Your Application
Take advantage of off-the-shelf, Enterprise-class FPGA product featuring a rich choice of customization options. Customers can quickly optimize and deploy advanced sensor processing platforms that meet your custom application requirements.
Multiple FPGA Vendors for Range of Features
BittWare is the only FPGA vendor-agnostic supplier of Enterprise-class product supporting the latest generation of devices from Achronix, Intel and Xilinx. Each brand offers a unique blend of logic resources, DSP blocks and embedded memories allowing customers to select the device best suited for their sensor processing requirements.
DDR4, HBM2 or QDR-II+ SRAM Memory
BittWare's FPGA cards allow your application to access a range of memory types. Our latest generation of products feature DIMM sites that can be populated with a choice of DDR4 or QDR-II+ SRAM allowing an optimal hierarchy of deep buffer and cache-like memory configurations to be created. Some cards offer HBM2 or GDDR6 memories with 8GB or more and higher bandwidth than DDR4.
Digital GPIO and High-speed Serial I/O
We recognize that many sensor processing applications require a mix of I/O types and speeds. BittWare's products feature multiple expansion ports allowing a range of peripherals to be integrated. These range from simple 1 PPS clock inputs and single-ended digital triggers, all the way through to additional high-speed network ports, direct NVMe access and card-to-card deterministic scaling.
High-bandwidth, low latency card interconnect. Scale independently of the PCIe bus. Multiple cards support this, with XUP-P3R (pictured) connecting two boards; other cards can daisy-chain more than two cards.
Take advantage of our computational storage solutions for your sensor processing application. Stream sensor data directly to NVMe at full data rate, avoiding the PCIe bottleneck and unburdening the host OS.
Custom Add-on Cards Tailored to Your Needs
Let us show you how customized variants or add-on boards let you rapidly develop a solution with a solid foundation—yet catered to your unique needs. For example, with the XUP-P3R card, we have many add-on cards adding PCIe, HD-SDI video, or more network ports.
Additional PCIe x16 interface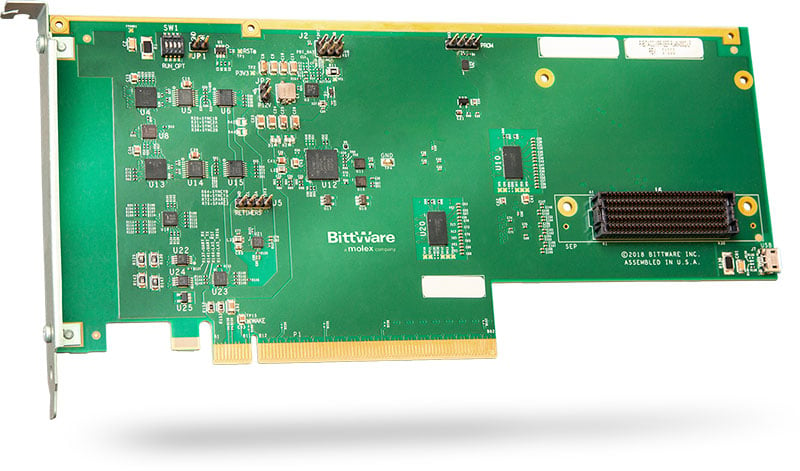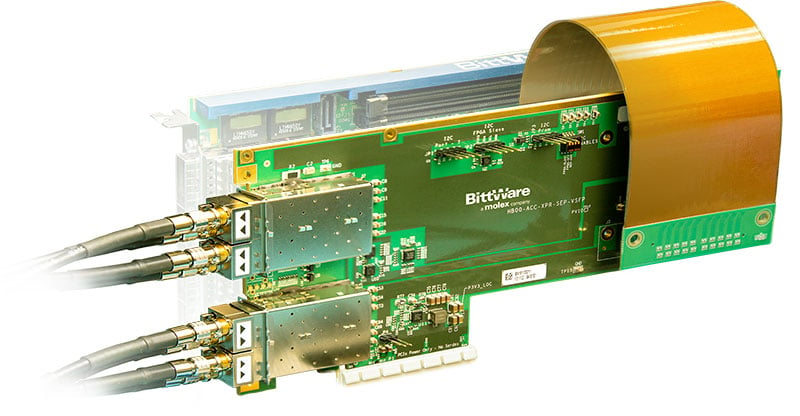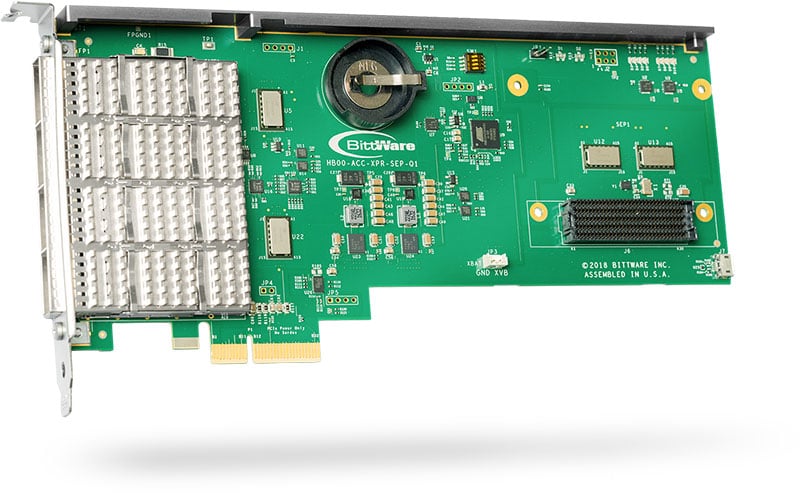 High-Speed NVMe Data Capture and Recorder
We look forward to discuss your sensor processing requirements! Please fill out the form to get started.