RFSoC Data Capture Cards:
RFX-8440 and RFX-8441
Flexible 4 Channel Analog In/Out
Single-Chip Adaptable Platform
Multi-channel Direct RF Sampling on a Single Chip
With flexibility to serve applications like 5G, RADAR, test & measurement and satellite communications, BittWare's RFX-8440 and RFX-8441 cards feature the latest third-generation RFSoC UltraScale+ Zynq device from Xilinx.
4 Channel Analog In/Out
Tapping three decades of experience in designing sensor processing cards, BittWare's analog front-end features variable gain in/out down to -40 dBm and several analog front end options.
Do More in the Digital Domain
At the center of both the RFX-8440 and RFX-8441 is the latest generation single-chip RFSoC from Xilinx, the Zynq ZU43. This device is designed to bring together multi-channel data conversion and processing on a single chip.
"Now with complete coverage of sub-6GHz spectrum bands available as a readily-deployable PCIe card from BittWare, customers are able to gain a competitive advantage by accelerating the design and development of their next-gen wireless systems today."
RFX-8440 PCIe card, show with optional dual QSFP28s. Card is designed to work in a host system or standalone.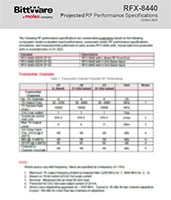 Looking for RF Performance Specs?
Request the RFX-8440 RF Performance Specifications Document
The default configuration for the analog front end targets L-band (1GHz to 2GHz). We also offer other configurations that remove several stages to provide a direct connection with baluns supporting up to 4 GHz. Contact us for other options.
Flexible 4 Channel Analog In/Out
With features like variable gain down to -40 dBm (input), we've designed the critical analog circuitry to match the performance needs for a clean signal to/from the RFSoC's 14-bit interfaces. Our heritage in high-performance analog PCB design spans three decades as a core strength for BittWare.
Powered by Third-Generation Xilinx Zynq UltraScale+ RFSoC
At the heart of the RFX-8440/RFX-8441 cards is the Zynq ZU43 RFSoC: a powerful single-chip adaptable radio platform providing up to 6 GHz of direct RF sampling. With a multi-element processing system: FPGA, real-time dual-core ARM and a second quad-core ARM, this RFSoC has what it takes to acquire, process and act on RF signals.
Tap a slide for more details on the RFSoC from Xilinx:
Slide content copyright Xilinx
Expansion Options With up to 200 Gb/s Bandwidth
Getting digital data to/from the RFSoC is easy with the flexibility of many digital I/O options. Choose from the RFX-8440 with an OCuLink 8× 25 Gb/s interface or the RFX-8441 with PCIe Gen4 x8. 
With these options you can connector to NVMe storage (perhaps using our Data Recorder IP), other BittWare FPGA cards for further processing, a CPU host, or let us design a custom interface card for your need. The RFX-8440 can be ordered with the OCuLink connected to dual QSFP28s for interfacing with external systems.
Block Diagram, Data Sheet and Specifications
Board Specifications
FPGA
Zynq UltraScale+ RFSoC

XCZU43 in an E1156 package
Core speed grade -2

Contact BittWare for other FPGA options
Analog
Several analog configurations available:

L-Band 1GHz - 2GHz: Includes several signal conditioning components including variable gain
Direct 3 GHz Balun: Eliminates amplifier distortion and the L-band signal conditioning
Direct 4 GHz Balun: Similar to 3GHz option, but with an extended input range to 4 GHz
Contact BittWare for additional options

4 x 5 GSPS 14-bit ADCs

-40 to 0 dBm (default, L-band only)

4 x 10 GSPS 14-bit DACs
Programmable clocks
External reference and triggers
SSMC style connectors
On-board flash
Flash memory for booting FPGA
Flash memory for ARM bootloader and OS image
External memory
16GB DDR4 processing system (ARM) memory with ECC
8GB DDR4 programmable logic memory with ECC
RFX-8440 External digital interfaces
Processing system

PCIe Gen2 x1
RJ45 Ethernet
USB UART
USB 3.0
Mini DisplayPort

Programmable logic

Up to 200 Gb/s via:

Option 1: inboard OCuLink
Option 2: Front panel 2x QSFP28

Xilinx Hard IP support for dual 100GbE and PCIe Gen4
RFX-8441 External digital interfaces
Processing system

RJ45 Ethernet
USB UART
USB 3.0
Mini DisplayPort

Programmable logic

PCIe x8 electrical with Xilinx Hard IP support for PCIe Gen4
Cooling
Standard: double-width passive heatsink
Contact BittWare for other cooling options
Electrical
On-board power derived from 6-pin AUX connector or optionally from 12V PCIe slot connection
Power dissipation is application dependent
Typical max power consumption 50W
Environmental
Operating temperature: 5°C to 35°C
Quality
Manufactured to ISO9001:2015 IPC-A-610-Class III
RoHS compliant
CE, FCC & ICES approvals
Form factor
3/4-length, standard-height PCIe dual-slot card (x16 mechanical)
Supports standalone operation
RFX-8440 and RFX-8441 can be ordered as a TeraBox™ integrated server platform
Development Tools
FPGA development
BittWare provides a basic data capture and replay example utilizing the major interfaces of the product. Xilinx Vivado development tools are fully supported for development of custom designs.
Deliverables
RFX-8440 or RFX-8441 Analog Data Acquisition Card
Data capture and relay example - Full source code
1-year hardware warranty
Interested in Pricing or More Information?
Our technical sales team is ready to provide availability and configuration information, or answer your technical questions.
Use this form to also request the RF performance specifications document.